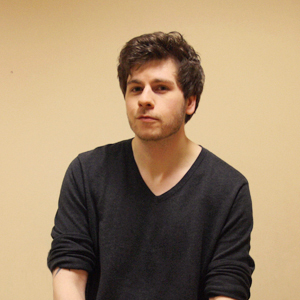 I've been part of Jowett School of Dance for as long as I can remember! From being put into a pair of tap shoes at around 2 years old and spending a lot of time at the Summer School sessions back when it was the Brooklyn School of Dance in Hull, I've basically grown up with the dance school since the 90s.

I've slowly graduated over the past couple of decades from actually dancing, to helping out once a year backstage at shows, all the way to helping to build Degas Studios when we first moved into the space in 2009.

I then went on to spend two years as a Reception / General Assistant every Tuesday and Wednesday until 2015 when I became the Studio Manager, and eventually a Performing Arts Teacher in 2016. Nowadays I split my duties while being the Manager of the school - Still teaching on Monday evenings (Go Drama Llamas!) and in the office regularly on Thursdays.
I've learned a lot from growing with the school, and I really wouldn't be the same person today if I hadn't been a part of Jowett School of Dance for all these years.
Since becoming a Performing Arts Teacher for the school, I have loved every moment of seeing my students bring the show scripts to life in their own unique and wonderful ways, and being a part of the hard work and progress they continue to make year on year with each show that passes.
Being even a small part of the journey that a Jowett Dancer makes from joining the school to parting ways, and a part of the Performing Arts Class's experience—with every new role they take on and every character whose shoes they must fill—is incredibly rewarding and a real sense of pride for all of us on the JSD Team.
Like so many of the faces I've seen come and go from the Jowett Dance Family, I feel privileged to have given years of blood, sweat and tears (quite literally on all counts) to Jowett School of Dance, and if you asked me to go back to the start and do it all over again, I'd do it in a heartbeat.

Joined Jowett School of Dance:
Before it was even called that!

Favourite Jowett School of Dance Memory:
My first show as a Performing Arts Teacher, seeing the Monday class being magical in bringing Alice in Wonderland to life and being very, very proud of them. They have only ever gotten better and better.
Favourite Dance Show Memory:
'Shall We Dance' (2005) – The 'Big Spender' routine. I was a gangster and was meant to be slipped an extra card to cheat at the card game I was playing. Unfortunately the dancer who handed it to me let it go too early and it floated to the ground instead of being placed in my hand. To say I had to do a slightly improvised manouver to get it back is an understatement!

Favourite Show Dances
'Moonlight' (2019) - The Battle of Swan Lake
'Dream' (2015) - Mermaid Lagoon
'Time Steps' (2010) - Fancy Footwork
Last Show Performed
'Roar' (2022)